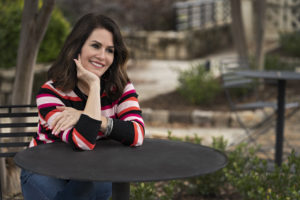 If I had to pick the number one thing that keeps women from losing weight, it wouldn't be the food they eat, the workout routine they have, or the habits they need to change.
Although these are obviously key pieces to the puzzle, there's a much bigger reason so many women stay stuck. And if I could wave a magic wand and fix it for women everywhere I would, because they would lose weight almost immediately.
The problem is this: they want someone to tell them what to do.
Why if I had to pick one thing would this be it? Because wanting someone to tell you what to do makes you powerless.
As soon as you start a diet, you cancel out all your resourcefulness, power, and capabilities. It makes you feel helpless to think that you can't figure out what to do or how to do it.
By waiting to be told, you miss the power you would have gained by simply deciding to take action. And by hoping someone else has the answer, you never figure out how to solve the problem yourself.
Looking for a quick fix to a problem is very different from solving it. Solving a problem requires self-reliance, energy, and motivation. Dieting to get rid of the weight doesn't solve anything, and you never have to access your internal power to do it. You follow instructions and pray that you'll have enough willpower to stick with it.
What you need to do is feel powerful — but this feels hard after years of dieting and failing. So how do you go from "tell me what to do" to all-powerful?
You take action.
The truth is that there's no one path to take. Everyone's path is different, because we're different people who live different lives. You have to figure out what works for you, and the only way you'll figure it out is to take action on your own, course-correct, and act some more. And the more action you take, the faster you'll get there. So actually, the key is to take massive action.
Massive action transforms you into a completely different human being and obliterates all obstacles in your path. It makes you feel decisive, in control, and capable — as opposed to indecisive, unsure, and helpless.
Doing something — anything — creates energy. And the more action you take, the more you want to act. Taking consistent, persistent action conditions you to be a do-er, a figure-it-outer, an achiever. And how can you not lose weight if you approach life this way?
Here's how taking massive action will transform you and exponentially increase your chances of successfully losing weight:
It makes you feel in control. One of the worst things about dieting and failing so many times and never losing weight is that you feel out of control. Not in the crazy sense like your kids are out of control — but, literally, you have no control. And if you binge eat, it's even worse.
Taking massive action quickly cures all this. Every time you take action, that means you're making a decision to do something and then following through. This makes you feel totally in control.
When you've been trying to lose weight for years and haven't been able to do it, you feel like nothing will ever change. So taking massive action on a daily basis wipes all that out and makes you feel in charge and capable of figuring it out.
It silences the voice that sabotages you. You know that incessant voice in your head that makes you argue with yourself? "I know I should do this, but I don't feel like it" . . . and then you don't do it, and it tells you what a loser you are?
You know you need to work out, but you don't feel like it, and when you don't, you feel like shit. Or you know you shouldn't eat those cookies, but you really want them and you deserve to eat them because you've been so good, then you eat them and feel terrible.
If you take massive action, that voice evaporates. You're too busy taking action to overthink everything, and you don't have time to debate with yourself should I or shouldn't I. You feel too powerful to have these BS conversations anymore, and because you're taking so much action, that power increases.
It makes you feel successful. The more you do, the more you increase your chances of success, and it also makes the failures you experience seem less dramatic. When you diet and you have the list of things you have to do but you don't stick with them, that's it, it's over. And you fail in a huge way and are back at square one.
But if you take massive action all day long, you see that there are hundreds of different ways to be healthy and that there's actually no such thing as failure. Plus, you'll start creating ways to add to the list and give yourself a ton of small wins throughout the day, which makes you feel hugely successful and motivated to keep going. Then you see exponential results — and then there's no turning back!
And when it comes to being healthy, every little bit counts. Do push-ups between loads of laundry. Run up and down the stairs a few times before you leave the house. Keep moving. With all the positive energy you generate, you'll feel like doing an extra mile during your walk or maybe you'll organize your kitchen.
Here are some examples of how you can take massive action:
drop down and do 20 sit-ups
chug a bottle of water
run to the store and buy anything in the produce section that looks good (whether you need it or not)
walk around the block
make notes in your journal
prep some healthy snacks
This doesn't just apply to weight loss. Take massive action in every area of your life because it spills over — and it becomes a habit to take action, take control, get busy, and do something.
Part of the problem is that we never generate enough energy to get the smallest things done, precisely because they're so small. They're chores and things to get through.
But imagine if you take your to-do list for the week and just start knocking it out — without canceling out your potential productivity by feeling sorry for yourself about how much you always have to do and don't have enough time to do it — you'll generate enough energy to get the rest of the list done twice as fast.
Or how about this? Set a bigger goal and take massive action toward that — you'll get weight loss thrown in. Wouldn't you rather set a huge goal and fall short of that than set a worthless goal like losing weight and fall short? You're doing that anyway.
You're capable of more than you think you are, but you'll never see that if you're whiling away your days, dreading your workouts and being afraid of the time between meals where you're trying not to eat anything. And you'll definitely never see it if you're searching for the magic blueprint that will tell you exactly what to do.
So close your laptop and get moving! Stop feeling stuck and supercharge your results by taking massive action.