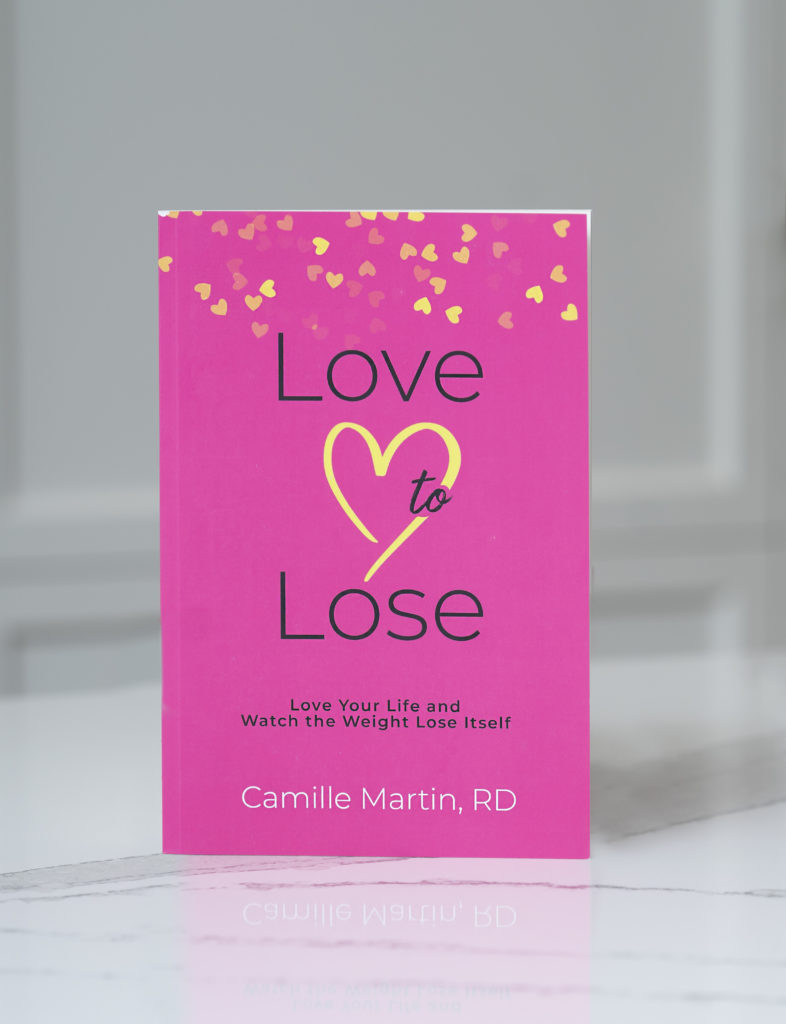 Love To Lose: Love Your Life and Watch the Weight Lose Itself
Have you been trying to lose the last ten pounds for the last ten years . . . or more? If you've spent most of your life on a diet, this book is for you. Camille Martin is a registered dietitian and former chronic dieter who spent nearly 25 years of her life trying to lose weight — until she finally gave up and quit dieting.
It was only when she did that the weight finally came off, almost effortlessly. She figured out why diets never work and how shaming yourself and feeling like a failure keeps you stuck — with the weight stuck to your body. In this book she will show you:
Why you're not the failure, diets are
How focusing on the weight is what's keeping you from losing it
The step-by-step method to changing your thoughts and habits, the only thing that works
How to set and achieve more meaningful goals
How to free yourself from diet prison, live your life fully, and watch the weight lose itself
More than just a book about losing weight, this book will also show you how to set bigger and better goals, live to your fullest potential, and create a meaningful life you love — the one you were born to live.
What readers are saying about the book . . .
This is one of the best self-help books I have ever read. The author is very relatable and kind . . . I can't wait for her next books.
— Amazon Reviewer
If you've ever struggled to take care of yourself or felt shame because of the way you look or the way your body feels, you will love this book! Get ready for light-bulb moments, and keep your pencil out while you read. My copy is full of notes, book darts, and underlines, and I feel extremely thankful I'll never have to feel like a diet failure again.
— Celeste O.
Prior to retirement as a psychotherapist, I had read many self-help, weight management, and motivational/inspirational books. In comparison to those I have read and set aside, this one will hold a lifelong place on my shelf! It is chock full of everything that is right with starting and staying on the journey to remain physically, nutritionally, and most importantly, emotionally healthy. I think of it more as a how to jump-start-your-life book, and my copy is ALL YELLOW! I only wish I that I had this book as part of my bibliotherapy program when I was a practicing counselor. Now, I am just so happy to have found it for me!
— Jenny B.
Camille's book provided me with facts about how to manage my weight without so much stress, which has helped me to enjoy my meals without constantly thinking about dieting. This is a "must have" book!
— Myrna S.
Simply the best! This conversational book will inspire and entertain as you learn how to live your best life. I thought I'd heard it all re weight loss, but the author's fresh perspective presents new, exciting ideas that are simple and easy to incorporate into your day.
— Amazon Reviewer
This book is amazing. I read it in 2 days! I absolutely love the way Camille speaks throughout the book and gives you step by step practical ways to change the way you eat. She uses a different approach unlike any other book I have read!
— Amazon Reviewer
As a therapist, I give Camille a standing ovation for this book! Every other book I've read about diet focuses on the intake of food and how to reduce that. Camille, on the other hand, explores the deeper issues that underlie one's eating habits. She reveals her own personal struggles around this issue and encourages the reader by sharing the journey out of this bondage. Her degree as a registered dietitian and her expertise in personal coaching mark this book as a breakthrough approach to one's relationship with food.
— Barney H.
Everyone should read this book.
It's not diet changing, it's life changing.
— Amazon Reviewer
Highlights from Love To Lose:
"Losing weight isn't what you're after — it's the life you imagine living once you lose it. And that life can be yours if you set an exciting, fulfilling goal and start working toward it."
"Dieting keeps you trying to buy the winning lottery ticket, only to lose week after week. And it makes you believe that it's your fault you didn't get the right numbers."
"Excess weight has nothing to do with who you are. It's an indicator, nothing more. It's a sign that you're merely taking the wrong actions in the wrong way — and you can change this."
"Losing weight won't bring you anything other than a body that weighs less, and the more you buy into the concept that shedding the weight will somehow magically change your life, the longer you'll stay stuck on a diet."
"We keep ourselves locked in a prison of silence and rage, eating to make it go away, feeling shame because we failed, and working around the clock to cover up the evidence of our failure."
"You can't diet your way to a better life — but you can get the life you want by using what you already have inside of you to create it. And the weight will come off automatically."
Let your environment work for you instead of against you. Sign up to get my free guide to setting your kitchen up for weight-loss success! Your Ultimate Weight-Loss Kitchen